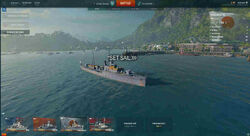 The Port is where players repair, customize, or upgrade warships and where they can research and purchase new ones.
The Warship Panel is found on the bottom. Players have Tier I cruisers available at the beginning; they can earn more ships of different classes over time.
The Battle Menu is found to the right of the orange Battle button, top-middle of the screen. Co-op Battle Vs. AI is the first type available.
The Tech Tree is below the orange Battle button. Every nation in the game has a multitier Tech Tree to research. Each of the four ship types handles and behaves differently. Experiment and unlock different nations and tiers.